Head Office
VTK Structures Limited
Rivington House
82 Great Eastern Street
London
EC2A 3JF
Tel:
020 7692 8200
Fax
: 020 7692 8201
Email:
info@vtksl.com

Structural  Cores  &  Walls
Accelerate building construction

Overview
All steel fixing and shuttering undertaken in Verteka factory

Panels manufactured to architectural dimensions and structural specification

Panels pre-formed into core modules where required

JIT site delivery
Verteka cores and walls are precision manufactured off-site and craned into position on site.
With such key structural walls installed within hours, turnaround time between floor slabs can be significantly decreased leading to overall project time and cost savings.
One of PSF's distinguishing features is the dual usage of the permanent face board. Initially, the cement fibre boards provide concrete containment for the construction condition. Within 24 hours of concrete filling, the Verteka PSF panel is capable of taking substantial structural load, relieving the concrete containment purpose of the cement fibre boards.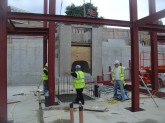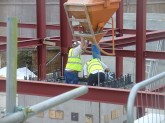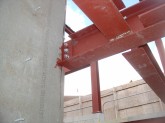 After concrete filling, Verteka PSF is simultaneously ready for attachment of structural connections and in-service decorative finishes (when and where desired). The 'warm-to-the-touch' nature of the board allows a minimum of finishing. A simple paint system may be applied, or alternatively the board may be quickly clad via direct screwing or nailing directly to the board.
Suitable for:
Structural thickness up to 350 mm

Walls and cores in buildings up to 20 storeys (*)

Retaining Walls (in development)

Floor-to-Floor height up to 5000 mm (*)

Steel frame;  Concrete frame; and Pod structures

Providing entire lateral stability via PSF walls / cores (and columns)
Verteka PSF is characteristically similar to equivalent thickness RC walls.  Following project  and design interface, Verteka wall panels are manufactured at dedicated premises. Panels are precision connected to form lift and stair footprint and in such a manner as to to maximise labour efficiency, crane capacity etc.
 
 Verteka PSF's primary components:
Face-boards provide both concrete containment and a 'ready for decoration' finish
High strength vertical steel studs maintain separation of the boards
Horizontal reinforcement positioned laterally through studs
Self Compacting Concrete (SCC) is placed in-situ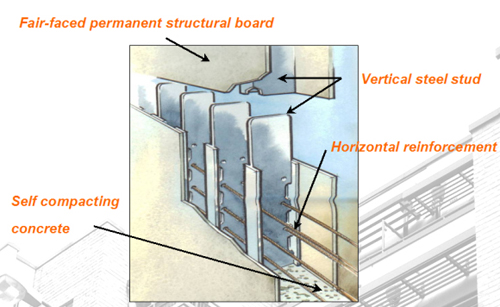 (*) PSF can be manufactured in thickness up to 350 / 400 mm to cater for taller residential and commercial buildings.  iFor floor-to-floor heights greater than 3200 mm, Verteka utilise 2 section rise.
Verteka PSF Brochure

Highlighted PSF features