Head Office
VTK Structures Limited
Rivington House
82 Great Eastern Street
London
EC2A 3JF
Tel:
020 7692 8200
Fax
: 020 7692 8201
Email:
info@vtksl.com

Verteka  'Vertical Technology'
Verteka Mission Statement; To provide  high quality Permanent Structural Formwork for cores, walls and columns. To bring together all the structural, architectural and in-service features, essential and desired, by multi-storey project stakeholders. To overcome hurdles typically encountered in one form or another associated with such central building components.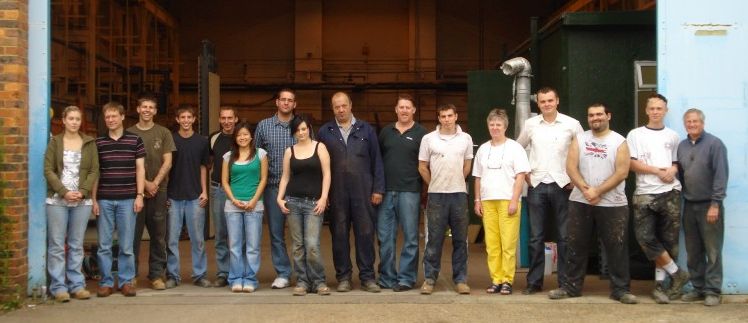 The Directors
Having met and worked together at UK's largest steel company, the directors developed a steel / concrete composite lift core system successfully used in various residential and commercial projects throughout the UK. Seeking a cost effective core/wall/column system dedicated to medium rise construction - Verteka Limited was born. Drawing from project management, research & development, site and design based backgrounds, the management team blend practical experience with product innovation to produce bespoke client solutions.
The Team
In 2008, Verteka's personnel has grown to become quite a dynamic crew with varied skill levels ranging from industrial apprentice through to seasoned welders.  All Verteka staff bring experience ranging from C&C control operations to site builder's works.  As Verteka is a unique and innovative product produced in a factory environment, staff are consistently learning new trades which ultimately assists in providing new routes into the construction industry and reducing dependency on the disappearing site skilled labour. The nature of PSF production allows equal contribution by both male and female employees.  Both the design and factory teams are actively involved in site delivery operations. 
The Service
Collectively, the director's numerous years experience designing and constructing cores for mixed use buildings pinpointed both advantages and difficulties associated with lift and stair cores, shear walls and columns. In order to provide the desired quality, accuracy and robustness of such project critical elements, Verteka Limited undertake the design and manufacture of these key items. Easily installed by site contractors, or via Verteka's installation team, the 'hard work' is done in the safe factory environment, allowing rapid and straightforward assembly on site and a seamless interface for follow-on trades.
For buildings between 5 and 20 stories there are only a handful of building core solutions, some providing speed, some providing strength but all measured against a traditional RC cost baseline. Verteka PSF provides both speed and strength in addition to fire resistance, acoustic compliance and a ready for decoration finish. All this is achieved at a cost similar to traditional reinforced concrete.
Finally, thanks for sticking with this relatively 'text intensive' page! The remainder of the website's content has been prepared to visually demonstrate most of the product and service aspects discussed here. In particular spend some time on the 'Projects' page and hover the mouse over the photos for additional information. Return to our web site often as it will be continuously updated to reflect new projects and products. To see what benefits Verteka Limited and Verteka PSF could bring to your projects, contact us for an informal discussion, send us a basic core layout or arrange for an in-office or on-site presentation. We look forward to hearing from you.