Head Office
VTK Structures Limited
Rivington House
82 Great Eastern Street
London
EC2A 3JF
Tel:
020 7692 8200
Fax
: 020 7692 8201
Email:
info@vtksl.com

Verteka PSF walls and blade columns are designed to offer similar structural properties to a 200 mm thick RC concrete elements. 
A standard Verteka PSF section includes the following properties (per meter run of wall);
Compression:         3200 kN/m
 
Tension:                 800 kN/m
 
Shear:                    200 kN/m
 
M20 Insert:             40 kN              (to carry stairs, structural beams, decking etc)
 
Fire (Part B):           2 hours
 
Acoustic (Part E):    450 Kg/m2      (exceeds Part E requirements)

Verteka PSF has been designed to offer standard structural criteria to which project designers can incorporate in building projects. These product specific properties have been confirmed at leading UK testing houses. In all other respects, PSF can be considered to be conventional reinforced concrete.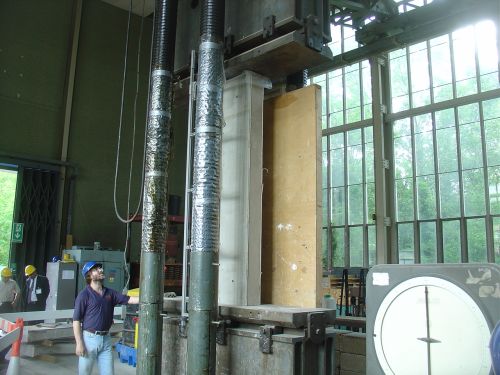 Compression: 3200 kN/m


Where required, PSF may be upgraded to meet loading conditions exceeding the above standard capacities
Typical Verteka Design Process
1. Project team submit basic info (floor plan, elevation) for initial analysis of core /building

2. Verteka prepare initial project report

3. Project team submit detailed load case on core(s)

4. Verteka confirm loadings acceptable to PSF components (PSF revised as required for load areas outside standard capacity)

5. Verteka prepare detailed technical, programme and cost quote

6. Verteka / Project team liaison throughout project period
Warranty through Verteka Limited product liability insurances. Overall design responsibility for project remains with Client appointed Engineer.